Lipofirm – What is it? How does it work?
We are very excited to now be offering Lipofirm at Enhance By Tara! We have two advanced Lipofirm Pro practitioners Lottie and Becky who are fully trained and insured in carrying out advanced skin treatments such as Lipofirm. Please select either Becky or Lottie on the booking system to book your most convenient appointment.
How does the Lipofirm PRO treatment work?
This, triple action fat reduction system consists of radiofrequency skin tightening which is achieved by a deep volumetric heating of the skin, combined with a muscle contraction process as well as an external mechanical force, which together offers more effective long term body shaping. Results can be seen after one treatment, though a planned course, over a matter of weeks is recommended for optimum results.
How does it work on the body?
This treatment uses a triple action mechanism that simultaneously:
Releases fat using proven Radio-Frequency energy. The radio-frequency heats the fat cells and causes them to secrete liquid fat.
Removes the released fat naturally using a patented lymphatic drainage mechanism.
Reshapes the skin by applying radio-frequency energy that causes immediate collagen contraction and long term collagen rejuvenation.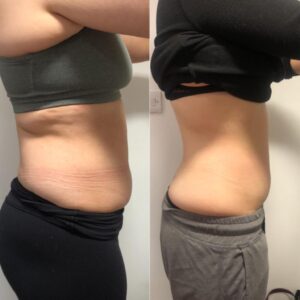 How does it work on the face?
Trilipo radio-frequency energy heats the skin and causes collagen fibres to contract. This contraction results in immediate skin tightening and improved skin texture. In parallel, the heating triggers fibroblast cells to produce new collagen. This collagen provides the skin with renewed firmness and flexibility.
In addition, Trilipo Dynamic Muscle Activation (DMA) technology stimulates and tones the muscle beneath the skin delivering a non-invasive face lifting effect.
This treatment is clinically proven to reduce wrinkles, fine lines and scars as well as restore firmness and smoothness to the skin.
The full benefits of Lipofirm PRO include:
Inch loss
Body sculpting
Skin tightening
Cellulite reduction
Stretch mark improvement
Facial lifting and sculpting
Wrinkles and fine line reduction
Ageing skin prevent
How many sessions will I need?
Results vary from person to person, we cannot guarantee results due to a range of factors such as diet, exercise and metabolism and we do not advertise Lipofirm as a miracle fix! You can achieve amazing results that really help along your fitness and body journey, but a healthy lifestyle must be maintained along with treatment. A course of 4-8 sessions is ideal each session spaced 7-10 days apart.
How much does it cost?
You can find the full price list for Lipofirm here.
If you have any questions about Lipofirm and if it could work for you get in touch and we'll be happy to answer any questions you have!
Find more testimonials from people you'll recognise below: