AnteAGE leverages the power of stem cell growth factors and Cytokines to deliver safe, effective, and luxurious products that promote aesthetic health.
AnteAGE is led by renowned researchers, scientists, and physicians who are the best in their field. The team is regularly published in scientific journals, awarded for ground-breaking results and sought after by Fortune 100 healthcare companies as well as medical spa companies for their expertise.
The AnteAGE Home Hair System is a breakthrough in the promotion of natural, healthy hair growth, without surgery or hormonal side effects. AnteAGE scientists found a way to develop the use of human bone marrow stem cell technology in aesthetics and dermatology fields.
The stem cells are derived from the bone marrow of young, healthy, pre-screened adult donors. The cells are cultured in a laboratory, within a controlled environment that fosters the production of the bio signals that will engage in the rejuvenation and repair of both hair and skin.
AnteAGE Hair System contains two products which work together to help awaken the sleeping stems inside the hair follicle and return them to a more youthful and active growth pattern.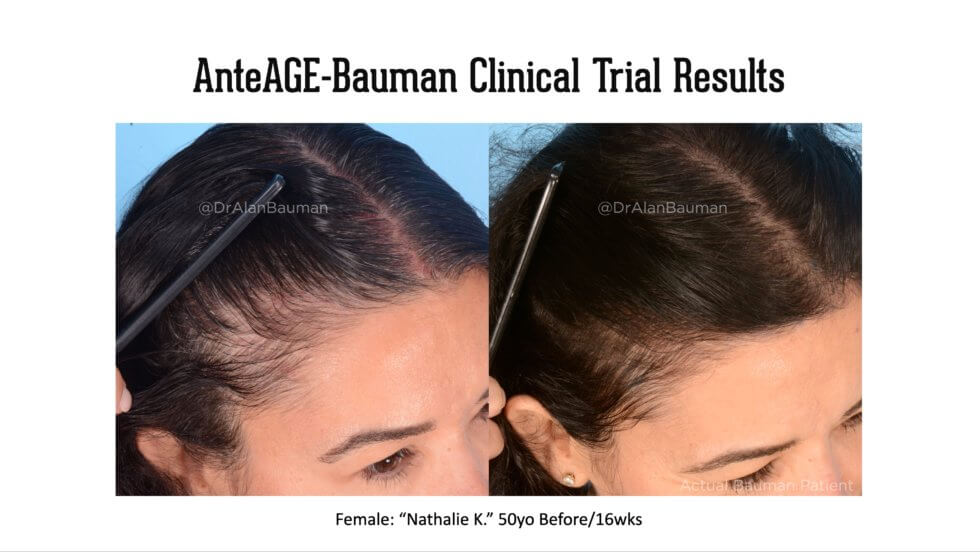 AnteAGE Hair uses WNT1 Stem Cytokines along with a cocktail of natural stimulants to overcome the quiescence of hair follicle stem cells. The application of Hair SCS is paired with a handheld dermal needling device to enhance product penetration and follicle stimulation. The AnteAGE hair growth system is a course of 5 treatments spaced 2 weeks apart.
The AnteAGE Hair System can be applied on all skin types. Before use, you should wash your scalp, using gentle diluted shampoo as after treatment with us you won't be able to wash your hair for a couple of days.
This treatment costs £400 per session or £1800 for a package of 5 bought together please send us an email to book